Wouldn't it be nice to control the pool or hot tub temperature, turn off the filtration system, or turn on the pumps to the waterfall using the same app as the rest of the home, "Crestron "? Crestron is compatible with many pool equipment manufacturers and we can help you integrate them together for a seamless luxurious experience.
You may be ready to install a 4k TV in your outdoor entertainment center, but you'll also need a sound system to make it sound amazing. Installiing speaker heads and in ground subs will help your backyard sound.
One frequent problem with outdoor audio is that it has nothing to resonate against.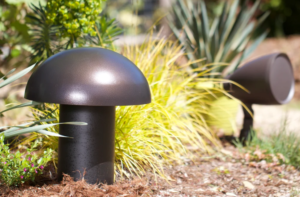 That's why they've perfected the underground woofer, which is exactly what it sounds like. The woofer is placed underneath your deck or seating area, allowing it to create a full, low sub experience. Plus, its placement means that you won't be able to see it, so it can't disrupt the look of your beautifully landscaped spaces.